Section 1
Electron and the positrons are proposed to have a singlet substructure.

Electrons require .51 MeV of mass-energy to form. The first singlet observed to exist in a stable configuration is the electron.

The electron requires .51 MeV of mass-energy and at least a singlet host unit particle of matter as components.

The energy bound to the singlet host is proposed to be in 'rotation' about the host charge unit matter. The word 'rotation' is used because that is the word is used in math to describe the wave function. The energy rotation around the host is a complex interaction in which the fundamental wavelength is exactly two 'rotations', hence the spin 1/2 of the leptons, the electrons and positrons.


DOUBLET UNIT MATTER SUBSTRUCTURESSection 2
ELECTRON NEUTRINO DOUBLET SUBSTRUCTURES

Electron neutrinos are composed of one negative unit particle of matter and one positive unit particle of matter bound by a primary strong bond in a doublet substructure and the momentum energy that is propelling the doublet substructure.

The two units of matter in the neutrino doublet substructure must have the magnetic dipoles aligned. The 'N' indicates north on the magnetic dipole for each type of neutrino.

The two types of electron neutrinos are distinguished by the alignment of the magnetic dipoles of the two structures. The configuration with a positive unit of matter at the north end of the common magnetic pole defines the anti-neutrino substructure, and the configuration with an negative unit of matter at the north end of the common magnetic pole defines a neutrino substructure.
Doublets substructure particles do not have rest mass, or mass-energy bound in the particle structure, so all of the energy of a neutrino is momentum energy.

The alignment of the magnetic dipoles of the composing unit matter components explains why neutrinos always have left hand spin and anti-neutrinos always have right hand spin. In neutron decay, the massless doublet substructure that can take the right hand energy rotation imparted onto it by the weak interaction as the electron requires the left hand energy, is the positive north of an anti-neutrino.
BACKGROUND OCEAN PARTICLE DOUBLET SUBSTRUCTURES

Background ocean particles are massless energyless particles of pure matter.

Background ocean doublets command no mass-energy of their own and are massless.

PHOTON DOUBLET SUBSTRUCTURES

The Unit Photons is defined as a doublet substructure and a pair of energy quanta in a one to one correspondence.

TRIPLET UNIT MATTER SUBSTRUCTURES
Section 3
QUARKS

The triplet up and down quarks are composed of three unit particles of matter forming the quark triplet substructure. Two positive units of matter and an a negative unit of matter in combination construct an up quark. Two negative units of matter and a positive unit of matter in combination structurally construct a down quark.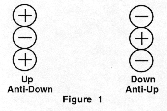 Quarks have secondary strong force bonds between the triplet group components of three unit charge unit particles of matter.

The arrows in the upper left of the illustrations below indicate the north end of the common magnetic dipole of the composing unit particles within the quarks.


up down
The two triplet configurations, up and down, form a particle/anti-particle pair.
---

Title Page of the Nature of Matter
Table of Contents of the Nature of Matter


Comments: jrees@starlight-pub.com
Last Update May 3, 2000Created May 7, 1997

Copyright © 2000 Starlight Publishing Company Hermosa Beach, CA
---